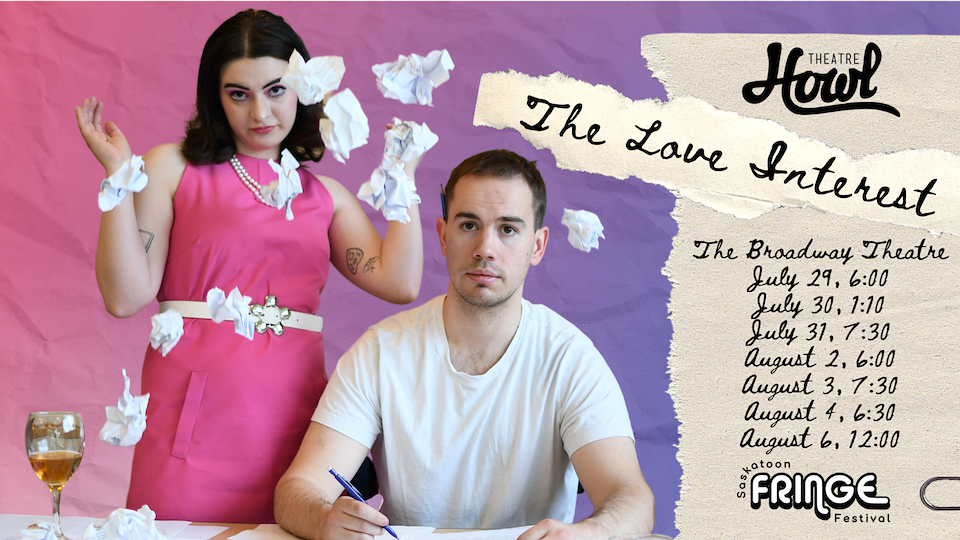 The Love Interest
A meta-comedy play based on a meta-comedy novel…
at The Broadway Theatre
July 29th @ 6:00 pm
July 30th @ 1:10 pm
July 31st @ 7:30 pm
August 2nd @ 6:00 pm
August 3rd @ 7:30 pm
August 4th @ 6:30 pm
August 6th @ 12:00 pm
From the company behind Matchstick (Outstanding Original Work – Ottawa Fringe 2013, ★★★★★ – CBC Manitoba, VUE Weekly Edmonton), Aiden Flynn Lost His Brother So He Makes Another (Best English Production – Montreal Fringe 2014, ★★★★★ – The Torontoist), Look//See (2015), and The Wild Dog Waits On The Concrete Path (★★★★ – Winnipeg Free Press 2018).
A Novelist begins writing a romance without developing the Love Interest character, so she refuses to participate. The Novelist – with the help of the Not-So-Omniscient Narrator – needs to traverse time and genre to pen a story she'll accept.
Everyone struggles for authorship in this meta-comedy that asks "who is writing who?"
Adapted from the novel "A Rebellious Heroine" by John Kendrick Bangs (1896).
Written & Directed by Nathan Howe
Set & Lights by Jared Beattie
Costumes by Emily Heinek
Sound by Nathan Howe with Jared Beattie and Derek Desroches
Starring:
Paige Francoeur
Savana Gallant
Makhosini Ndlovu
Jonathon Pickrell
Andrew Taylor